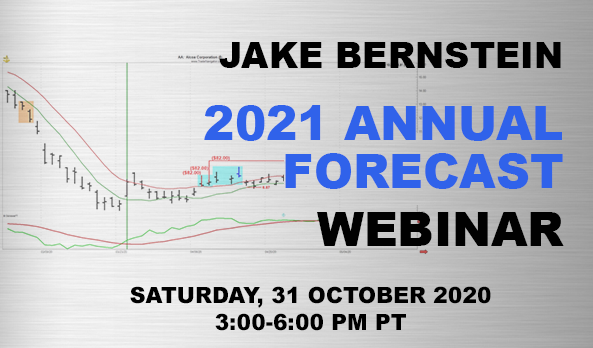 JAKE BERNSTEIN 2021 Annual Forecast
Get ready for more massive moves
that could shake worldwide economies!
MY 2020 FORECAST WAS AMAZINGLY ACCURATE – WHAT NOW?
How will the markets react to critical market cycles
& deteriorating geopolitical stability?
IS A NEW VIRUS LOOMING??
THE 10 TOP MONSTER MOVES
YOU MUST ACT ON IMMEDIATELY!
MY LONG-TERM CRYPTOCURRENCY FORECAST
If you can't attend the live session
you'll get the recording, .pdf & PowerPoint of this presentation
Dear Trader / Investor:

As I write these words, the world, as I predicted, remains on the brink of political, economic and environmental catastrophes all of which have created unprecedented trading and investing opportunities. And the Covid crisis has hugely amplified an already explosive underpinning.
WE DIDN'T CREATE THESE THREATS BUT WE CAN PROFIT FROM THE TRADING OPPORTUNITIES THEY CREATE EVERY DAY!MANY OF THE BIG MOVES I PREDICTED LAST YEAR HAVE STARTED!
Commodity prices across the board, were "very likely to explode, sooner than you think," all of which was CORRECTLY predicted in considerable detail in my 2020 Annual Forecast. Look at what has happened to my bullish forecast on lumber, palladium, gold, silver, S&P, platinum, T-Bonds, T-Notes, grains, soybeans and more.

This will be the most important and specific forecast I have ever presented.

MOST of the moves I predicted last year in November have already started. But this is just the beginning!
FASTEN YOUR SEATBELT!
You need to ask yourself why insiders are currently accumulating large long positions in more than 10 major markets. THEY KNOW SOMETHING!

My 2021 Annual Forecast will open your eyes to the big moves that are likely waiting for us right around the corner. Here are some of the specific opportunities I will alert you to:
Cryptocurrency forecast using small trader sentiment
Long-term cycles forecast for every major futures market
Intermediate-term cycles forecast for every major futures market
Long-term cycles Forecast for US stocks and Europe Hang Seng
Intermediate-term cycles forecast for US stocks and Hang Seng
Price and time projections for all major markets (DAX and FTSE)
Copper: my forecast was right! ARE NEW ALL-TIME HIGHS COMING? 
Interest rates: Dropped as predicted, where now?
The INCREDIBLE 80% ODDS YEAR-END SEASONALS!!!
Real estate forecast: the best is yet to come
Lumber surged to new all-time highs as recommended 2 years ago
UPDATE NATURAL GAS: How to maximize the move
Why the experts will be wrong again on interest rates
How to prepare for the inevitable and unavoidable inflation
Will the grains finally explode? Is that starting now?
AGAIN, there are clear & powerful signals now being generated by the COT
How to invest in the NEW bull market
The future of agricultural commodities
THE KEY INDICATOR TO WATCH
My forecast for US farmland was totally right. What's next?
HUGE profits coming in the yield curve spread?
Record volatility awaits – How to get on board:
How to harness & profit from volatility in 2021
My STOCK MARKET BULLISH FORECAST WAS ON TARGET! Where to now?
CYCLES forecast: DAX, FTSE, NIKKEI, HANG SENG
---