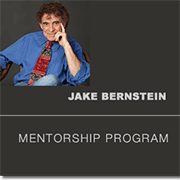 Trading the WINNING Way
Stop throwing money down the drain
with repeated trading losses!

JAKE BERNSTEIN
MENTORSHIP PROGRAM
A few openings are available.

My name is Jake Bernstein. I am an internationally-recognized stocks and futures analyst, trader and author.
Maybe you've seen me on Wall Street Week many years ago, or CNBC where I've made several appearances. Or perhaps you've attended one of my seminars, webinars or read one of my 40+ books on trading and investing, or possibly you have been a subscriber to my reports, newsletters and my Weekly Capital Markets Report, which has been in publication since 1972! Through years of intensive study, trading and research, I've gained notoriety as a pioneer of numerous innovative trading methodologies, timing tools, market forecasting, cyclical patterns and seasonal indicators.

How does my Mentoring Program Work?
Before beginning the course, we'll have an initial interview during which we discuss your trading goals, your past experience in trading stocks and futures, and your strengths and weaknesses as a trader. During the program, you'll be given assignments as well as follow-up questions to make certain you understand the work.If you have a particular need or weakness, I'll help you develop your skills in the areas that you wish to improve upon. You'll also receive supply charts, graphs, rules, notes, certain books and software as part of the training – at no additional cost. In fact, you'll get over $7500 worth of materials as part of the program!

My mentoring program runs for 13 weeks. You get 2 sessions of 30 minutes each,  always with me (and more sessions if needed) conducted one-on-one over Skype. I will share my computer screen with you so you can see exactly what to do.
Once accepted as a student, you'll be given my personal, unlisted phone numbers (home, office, trading desk and cell phone) as well as unlimited e-mail access to me during the length of your training.

There is no guesswork, tricks or gimmicks in the Jake Bernstein Mentoring Program.
Everything you will learn from me is clearly illustrated with concrete examples, history and rules, and each and every lesson is designed to improve your trading skills immensely.
Here are the core topics I will teach you with 100% objectivity:
How to find the trend every time

The structure of a trade (without the right structure you'll fail miserably)

 When to buy at support and sell at resistance

Why day trading is not appropriate for most traders

 The basics of setup, trigger, and follow through

How to identify and understand effective price patterns

 How to find high probability set ups in seasonals

 My 100% objective, high-odds, short-term trading methods

How to avoid the danger of stochastic timing

 Which popular indicators don't work and how to effectively use the ones that do

 Orders – how and when to use them for best results

 My exclusive profit maximizing strategy for all methods

How to use the Moving Average Channel (MAC) to your advantage
Simply put, I'll be teaching you my best strategies.
What you learn from my course will empower you to compete, giving you the tools
and skills you'll need if you want to win!
If you're accepted into my course, you'll be privy to my time-tested and powerful tools for stocks, Forex and  commodities trading. You'll get exceptional research, specific tools and systems as well solid organizational skills you need to become a totally independent trader. However … there's one thing I can't do for you…I will not trade for you. I will not foster dependency or worse, make outrageous claims and promises of surefire, guaranteed profits. Though all trading can lead to incredible rewards, it does, as you know, involve some risk. So, if you're looking for 100% guarantees, this program is not right for you. And, if you are lazy, unmotivated, inconsistent, or you're looking for a magic pill, this program is not for you. I only want to work with you if you have the potential to be a winner.
Become a skilled and successful master trader through exclusive private coaching.
If no one has taught you the principles and techniques that are critical for success as a trader,
then you've been flying blind. (that is, until now.)

Best of trading,
Jake
b
JAKE BERNSTEIN
NETWORK PRESS
email: rulesbasedtrader@gmail.com