Currently a subscriber?


You can add to your current subscription at these discount prices!
Sale Ends 15 December 2022

all sales final…no refunds…no returns 
no retroactive discounts |  the 2fer Card does not apply
JAKE BERNSTEIN
Intermediate-Term Trend Trader 3  (JBIT 3)
I am aware of the fact, the sad fact, that most traders are unable to hold winning positions for more than a few hours. The obverse of this fact is that the big money is made in the big moves. On an intermediate-term basis, by which I mean 3 to 15 months, some traders who have the discipline and the right methodology can profit handsomely. Therefore, through painstaking research I developed the intermediate-term trader indicator which is proprietary and now available in weekly video format. Every week I record a 30 minute video, showing my intermediate-term IT3 indicator, and I provide specific recommendations designed to capture the big intermediate-term moves. For example, several months ago I recommended long coffee futures, long soybean oil futures, long wheat futures, and long S&P futures, all of which have made stellar moves. Some of the biggest moves, up and down, are yet to come. So if you have never seen this report, you may want to check it out.


SPECIAL PRICE – FIRST TIME OFFER 
2 Yr Subscription 

SALE  $895 


REG PRICE $3600  SAVE OVER $2500
JAKE BERNSTEIN
WEEKLY CAPITAL MARKETS REPORT
Every week since 1972, Jake Bernstein has published his Weekly Capital Markets Report. Issued in video format with graphically illustrated charts and signals, this approximately 30 minute report focuses on short-term, actively traded US futures markets as well as several European and Asian stock indices. While most newsletters lapse into meaningless subjective opinions and fundamental hyperbole, this report is all about the facts. Based on 52 years of experience Jake cuts through the BS and gives you purely objective and actionable signals with a high degree of accuracy. You will not find anywhere in this business any report as consistent, objective, unambiguous or as precise as the Weekly Capital Markets Report. This is why we still have readers who started with this newsletter at its inception in 1972.
BERNSTEIN On Stocks (BOS)
The Bernstein on Stocks (BOS) Weekly Video Report has correctly called the biggest bull market in history, commenting weekly on the intermediate and long -term trends in the major stock indices. We focus on the biggest moves with precise timing and purely objective video reports – 5 to 10 minutes in duration. BOS has been correct on virtually every buying opportunity and intermediate top since the inception of this newsletter.


JAKE BERNSTEIN
METALS MARKET WEEKLY REPORT
The Jake Bernstein Metals Market Weekly Report is a weekly 5 to 10 minute video report showing our best intermediate-term indicators, buying and selling opportunities, trend and price projections, and more on silver, gold, platinum, palladium and copper.  The incredible and 100% accurate forecast for new highs in palladium made at the beginning of this record bull market, is just one example of what the metals report can do for you.  All forecasts are technical, fact-based, completely disclosed and accompanied by clear charts and explanations by Jake Bernstein. Also included are suggestions on metals portfolio diversifications, allocations, and price ratios.
JAKE BERNSTEIN
MONSTER MOVES REPORT
Without a doubt the biggest money is made in the biggest moves! Jake Bernstein has developed a unique approach to accurately forecasting these moves in all actively traded futures markets. Issued in video format every two to three weeks, this unique approach combines cycles, large commercial positions, small trader sentiment and timing into a precise long-term trading forecast, picking major tops and bottoms and forecasting trends as much as ten years in the future. THERE IS NOTHING LIKE THIS VIDEO REPORT. The perspective and roadmap are phenomenal, graphically illustrated and carefully explained in a 30 to 40 minute video by the man himself. The Monster Moves Report truly fulfills its mandate by having correctly predicted many of the biggest moves in history. If your interest and profits depend on knowing the big picture, you will gain this knowledge clearly and consistently through the Monster Moves Report.
JAKE BERNSTEIN | DSI/DSIE REPORTS




GET THE HEDGE FUNDS SECRET WEAPON!


You will worship its predictability!

The Daily Sentiment Index, small trader contrary opinion indicator, has long been the secret treasure of the biggest and best hedge funds all over the world. My top subscriber list

 

for the DSI index reads like a Who's Who of the biggest names in the business including hedge funds, banks, insurance companies, top notch traders, and advisors as well as newsletters and brokerage firms. Here is the interesting thing about the DSI:
We don't even advertise. Virtually 100 percent of our subscribers are based on referrals, recommendations, favorable mentions, and amazing forecasts by newsletter writers based on DSI tops and bottoms.
Although the DSI does not give recommendations, the daily percent bullish sentiment has a broad-based data application in conjunction with other indicators. The DSI is available as a data file daily, or as a daily upload to your Trade Navigator ™ or Trade Station ™. The DSI is not for everyone. The DSI is not cheap. But if you know how to use it you will worship is predictability. Find out why so many professional traders take it with them every time they change firms. Each DSI subscription comes with a training video explaining different ways it can be used. Note that we are the only source of small trader sentiment going back daily to 1987, and this data history to you as a subscriber at no charge.
 P.S. If you have not seen some of my services before send us an email request and we will give you a current copy for your evaluation:  jake@trade-futures.com
JAKE BERNSTEIN 
2020 webinar series


SALE $629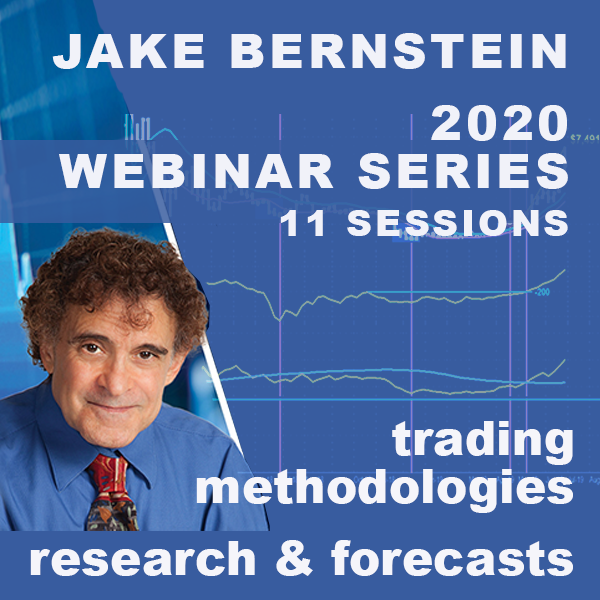 Every Webinar will contain highly specific information based on methodologies I am currently using as well as new research and/or updated or new forecasts. Some of the sessions teach methods and/or indicators I have never taught before. 11 Webinar topics include: Popping the Market with Stochastics, The Premier Method for Picking Tops and Bottoms: Divergence in Its Many Forms, Cheap Stocks – Big Bucks Parts 1, 2 & 3, Understanding the POWERFUL COT Report, The New Paradigm In Precious Metals & Crypto Currencies, A Brief Course In Behavioral Economics Sessions 1 & 2, The Daily Sentiment Index:  The Ultra Powerful Secret Weapon of Hedge Funds!,  The 2020 Midyear Forecast,  Weekly Swing Trading: Stocks and Futures, What to Do Every Day,  Gaps! Gaps! Gaps! How to Trade Them Profitably!
JAKE BERNSTEIN 
POWER TRADING TOOLS
PTT Webinar Series
SALE $389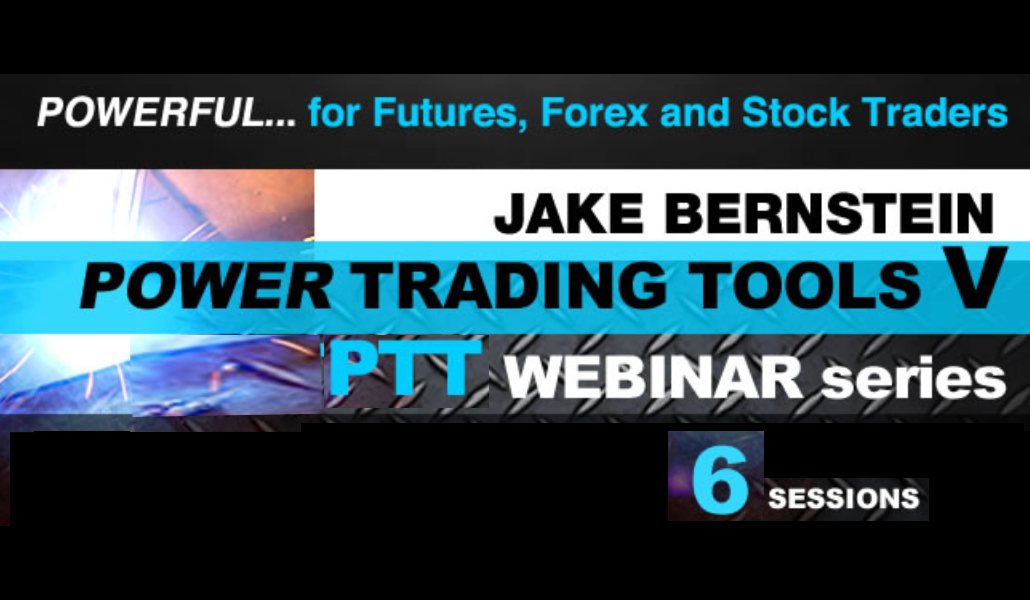 If you're looking to understand my objective methods with clarity and detail that you are unlikely to get from anyone else in this business, then you should view the PTT Webinar Series. I  teach the following fully rule-based methods and give you specific trades before they trigger, and once triggered, my specific exit strategies will help you see and learn a complete process from start to finish that is objective, professional, and not subject to any interpretation.
JAKE BERNSTEIN 
Strategic Short-Term Timing
(SSTT)Webinar Series  
SALE $389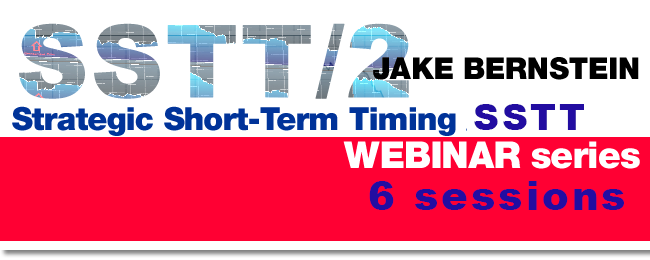 THE AMAZING 15-MIN BREAKOUT – fine tuning for maximum outcomes
SHORT-TERM rule based methods reviewed
DAY TRADE methods reviewed
Set-up trigger and follow through
Newly developing trades
Profit maximizing strategies
Answers to your questions every week
Using DEPTH OF MARKET to maximize results
Clear and consistent details